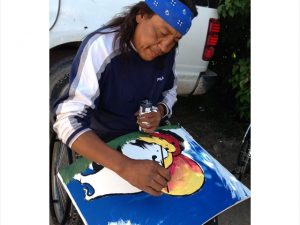 The Lakȟóta people and Teton Sioux are part of a confederation of seven related Sioux tribes, the Očhéthi Šakówiŋ or seven council fires, and as such one of the indigenous peoples of the Great Plains of North America. They speak the Lakota language, the westernmost of the three Siouan language groups, occupying lands in both North and South Dakota.
Kevin Poor Bear of the Lakota Sioux Nation is a proud member of the Pine Ridge reservation, an artist, a husband, and father, and a bilateral amputee resulting from a brown recluse spider bite.
The Sioux are actually 3 major groups of tribes spread over North and South Dakota, Minnesota, Nebraska, Montana and Canada, each with their own dialect. Pine Ridge is in the western part of South Dakota and home to the Lakota people known for their hunting and warrior culture. Sioux history is marked with much tragedy and conflict including the Wounded Knee Massacre of 1890 that left around 150 unarmed men, women, and children dead.
The reservation doesn't provide many opportunities for work leaving the unemployment rate at 80-90% and the per capita income at $4,000. Which brings us back to Kevin Poor Bear. Kevin makes a living through his company Poor Bear Art where he sells his original hand painted pastels that embody and preserve the Lakota history and culture. Like many of the Sioux people, Kevin strives to preserve the history, language, and spiritual practices of his ancestors.
" We must appreciate the undaunted courage, the enduring spirit of survival, and the happy spirit of laughter among the Lakota…the Lakota people are here, still proud, still strong, still surviving, in the face of inestimable difficulties. And the victory of a better life will come." -Kevin Poor Bear